Home > Products > Dryer Series
Nitrogen Closed Cycle Intelligent Fluidized Continuous Drying And LOW-Boiling Solvents Recovery Unit
Nitrogen Closed Cycle Intelligent Fluidized Continuous Drying And LOW-Boiling Solvents Recovery Unit
Tags:
Overview: Firstly turn on venting valve of closed system, charge nitrogen to system, after replacing air in system to scheduled target, turn off venting valve, turn on fan, heat nitrogen and open coolants to make the whole system in normal feeding status,
Detail
Images
Customer
Video
Demo
Projects
Nitrogen Closed Cycle Intelligent Fluidized Continuous Drying And LOW-Boiling Solvents Recovery Unit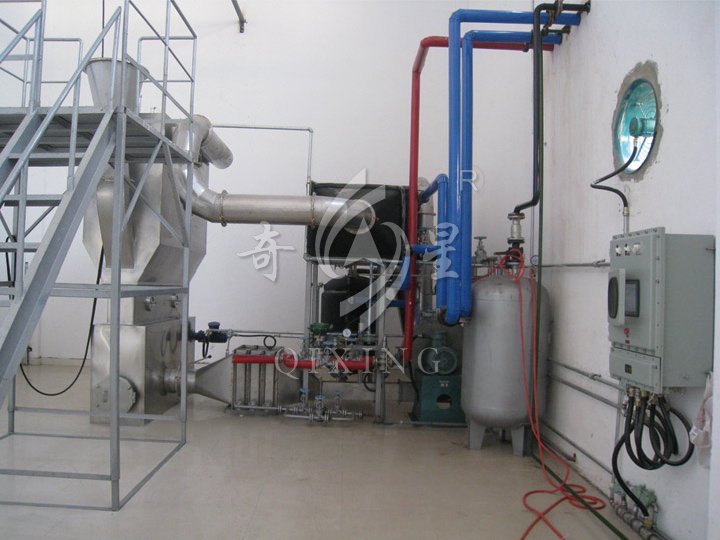 INTRODUCTION
This unit is a scientific project researched and developed by our company together with Tianjin University. During research and development process, in view of system closed problem, continuous boiling problem, online detection problem, nitrogen replacement problem, fan explosion-proof problem, safety relief pressure problem, solvent recovery problem, temperature automatic control problem, filter bag dust-removal problem, continuous material-feeding and material-discharging problem, directional explosion problem and oxygen containing –nitrogen-filling – relief pressure linkage intelligent control problem and so on, we has made a great deal of research and exploration work, and made bold attempt on medical intermediate CM-1 and pesticide intermediate 6A, in combination with production practice, and acquire praiseworthy achievements through the operation for over two years. On the basis of summarizing, rectifying and reforming, perfecting and improving, it has had the values of popularization and applicaition.

WORKING PRINCIPLE
Firstly turn on venting valve of closed system, charge nitrogen to system, after replacing air in system to scheduled target, turn off venting valve, turn on fan, heat nitrogen and open coolants to make the whole system in normal feeding status, start feeding, control retention time, evaporated solvent enters into condensation cooler at this time, and becomes liquid state into recovery tank after being condensed, incondensable nitrogen re-enters fan, and then enters into dryer for next circulation after being heated; strictly control the balance of feeding and discharging quantity, control temperature and system pressure of every point, once oxygen-containing value of system exceeds standard, nitrogen will replenish automatically, automatic relief pressure valve will open automatically together with alarm system, if pressure exceeds standard, PLC procedure controls and debug all parameters to normal scope automatically and remove dust at fixed time and fixed intervals. So the cycle repeats to realize continuous production, and reach the purposes of drying materials and recovering solvents. Due to flammability and explosiveness of solvent, the whole system is explosion proof, and set with explosion vent and explosion-proof membrane, it can conduct directional explosion venting, and guarantee the safety of device and personal safety of operators.
CHARACTERISTICS AND ADVANTAGES
◎ It implements the whole closed system, utilizes nitrogen as heat-transfer medium, recycles to use, especially suitable for drying of easilyoxidized, inflammable and explosive materials;
◎ Due to closed circulation and continuous drying, no waste gas exhausts basically and greatly improve production environment;
◎ Solvent recovery with low boiling point and extensive applicability, common solvents : benzene, methylbenzene, methanol, alcohol, acetone, cyclohex ane, n-heptane, chloroform and DMF can all be recovered effectively, recovery rate comesto 90%-98%, it saves resources, protectsenvironment, and reduces production cost;
◎ Boiling and drying realize serialization, it improves output and efficacy, reduce energy consumption, and alleviate labor intensity of workers;
◎ Cylinder vibration replaces nitrogen pulse dust-removal, it not only guarantees pressure balance of system, but also guarantees dust-removaleffective ness;
◎ Online detecting moisture, online detecting oxygen containing, online detection pressure, online detecting temperature of all points, ensurethe whole production in effective monitoring scope;
◎ Adopt advanced condensation and cooling technique, apply composite plates to replace fin, use labyrinth liquid plates to collect solvent, improve condensation and cooling effect, and increase recovery rate of solvent;
◎ Adopt intelligence control, improve automation degree of device, and ensure safety, advancement and scientificalness of device;
◎ Select oil proof, water proof, anti-sticking and anti-static carbon fiber filter bag, adopt PTFE film, apply three-needle sewing process, andensure filter bag no leakage;
◎ Fluidized bed adopts inclined and straight holes alternate combination form, adopts laser drilling, ensures bed plates flat, hole has no burr, plate does not deform; large bed is set with adjustable weir plate.

PROCESS FLOW STRUCTURE SCHEMATIC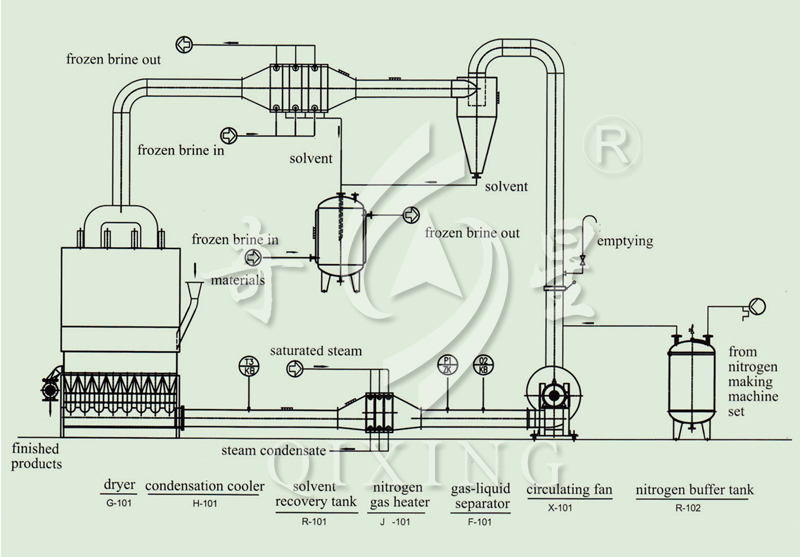 Note: Model unit includes:Boiling dryer host, screw feeder, discharging rotary valve, condenser, liquid-vapor separator, explosion-proof fan, nitrogen gas heater, nitrogen gas buffer tank, solvent recovery tank, explosion proof control box, connection pipelines and valves and intellectualization control system.
This machine unit has no fixed-type standard configuration, and it shall be re-designed and calculated according to physical parameters and technological requirements. For material and work condition of the same kind, their configuration are available as reference.

MACHINE UNIT MODEL AND EXPLANATION