LPG Series High-speed Centrifuging and Spraying Dryer
Tags:
Overview: Filtered and heated air goes into air distributor on the top of the dryer, and spirals into drying room uniformly.
Detail
Images
Customer
Video
Demo
Projects
LPG Series high-speed centrifuging and spraying dryer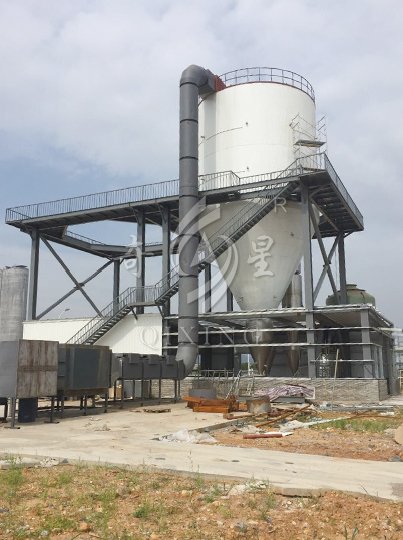 INTRODUCTION
Spray drying is a most widely used craft in liquid molding process and drying industry. It is ideal for producing powdery and granular solid product from the solution, emulsions, soliquoid and pumpable paste states. Thus, when the particle size distribution, residual moisture content, bulk density and particle shape must meet a precision standard, the spray drying is an ideal choice.

WORKING PRINCIPLE
Filtered and heated air goes into air distributor on the top of the dryer, and spirals into drying room uniformly. Going through the high-speed centrifugal atomizer on the top of tower, the liquid (rotates) sprays into extremely fine mist liquid beads, and can be dried completely in a short time in co-current contact with hot air. Finished products exhaust continuously from the bottom of the drying tower and cyclone separator, while waste gases are vented by the fan.

WORKING PRINCIPLE
◎Fast drying speed; greatly increasing the surface area of the material after the liquid is atomized; it can instantly evaporate 95% -98% of water in the stream of hot air; it takes only a few seconds to complete drying, which is especially suitable for drying heat sensitive   materials.
◎ Our products have a good uniformity, mobility and solubility, high purity and good quality.
◎ Simplified production process, easy to operate and control. Liquid of 40-60% moisture content (up to 90% for special materials) can be  dried into powder products at a time, without crushing and screening after drying, which reduces production process and improve product purity. The size, bulk density, moisture can be adjusted within a certain range by changing operation conditions. It is convenient  to do control and management.

APPLICAITON
◎ Chemical industry: sodium fluoride (potassium), alkaline dyestuff and pigment, dyestuff intermediate,
  compound fertilizer, formaldehyde silicic acid, catalyst, sulphuric acid agent, amino acid, etc.
◎ Plastic resin: AB, ABS latex, urea resin, phenolic resin, dense glue (urea) formaldehyde resins, polyethylene, polyvinyl chloride, etc.
◎ Food industry: fat-rich milk powder, lancet protein, cocoa milk powder, babymeal, hunting blood meal,  egg white (yellow), etc.◎ Food and plants: oats, chicken juice, coffee, instant tea, seasoning meat, protein, soybean, peanut protein, hydrolyzate and so on.
◎ Sugar: corn syrup, corn starch, glucose, pectin, malt sugar, potassium sorbate, etc.
◎ Ceramics: aluminium oxide, ceramic tile material, magnesium oxide, talcum powder, etc.

STRUCTURE SCHEMATIC

TECHNICAL PARAMETERS
Model/Item

LPG-5

LPG-25

LPG-50

LPG-150

LPG-200-2000

Inlet Temperature

140-350 automatic control

Outlet Temperature

80-90

Max. Evaporation Capacity
(kg/h)

5

25

50

150

200-2000

Atomizing Method

compressed air transmission

mechanical transmission

Revolution
(r.p.m)

25000

18000

18000

15000

8000-15000

Diameter of Atomizing Disc(mm)

50

120

120

150

180-240

Heat Source

electricity

steam+electricity

steam+electricity, oil, oil fuel, hot air furnace

Max. Heating Power(kw)

9

36

72

99

Overall Dimensions
(L W H)(m)

1.8×0.93×2.2

3×2.7×4.26

3.5×3.5×4.8

5.5×4×7

depends on actual situation

Dried Powder Restoring Rate(%)

≥95
Note: The amount of water evaporation depends on the factors of material characteristics, inlet and outlet temperature. Water evaporation curve is shown above (for reference of selection) when the outlet temperature is 90℃. With the constantly updated, relevant parameters will change without prior notice.