XSG SERIES SPIN FLASH DRYER
Tags:
Overview: WORKING PRINCIPLE The hot air enters into the bottom of the dryer in tangent direction. Under the driving of the stirrer…
Detail
Images
Customer
Video
Demo
Projects
WORKING PRINCIPLE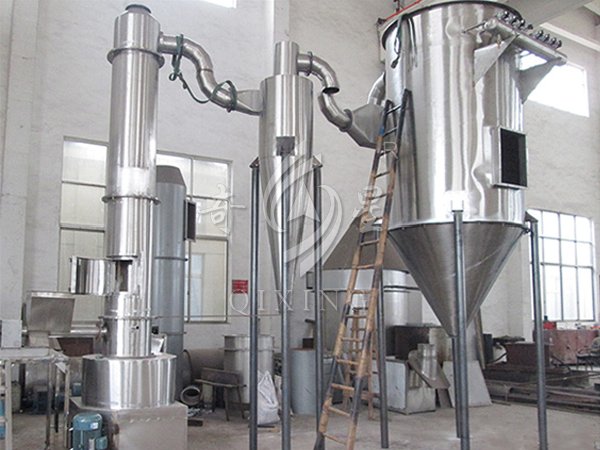 The hot air enters into the bottom of the dryer in tangent direction. Under the driving of the stirrer, a powerful rotating wind field is formed. Paste materials go into the dryer via screw feeder, and dispersed by impact, friction and shearing force under the powerful high-speed rotating impeller; bulk materials immediately get smashed, in fully contact with hot air in order to get heated and dried. Then the dehydrated materials rise with hot air. A hierarchical ring will make large particles retentate, while exhaust small particles out of dryer from center of the ring, recovered by cyclone separator and deduster. The bulk materials or materials without being fully dryer will be thrown to the wall under centrifugal force and drop to the bottom again to be smashed and dried.

STRUCTURE SCHEMATIC


FEATURES:
◎ Dynamic integration of cyclone, fluidized, spouted and grinding classification technologies.
◎ Equipments are compact and small-sized, enabling high efficiency and continuous production, achieving "small equipment, large-scale  production".
◎ Great drying intensity, low energy consumption, high thermal efficiency.
◎ Short material residence time, good product quality, available for drying heat sensitive materials.
◎ Negative or slightly negative pressure operation, good impermeability, high efficiency, eliminating environmental pollution.
TECHNICAL PARAMETERS
Model/Item

XZG-2

XZG-4

XZG-6

XZG-8

XZG-10

XZG-12

XZG-16

XZG-20

Tower Diameter (mm)

200

400

600

800

1000

1200

1600

2000

Air Volume (m³/h)

350-500

1150-2000

2450-4500

4450-7550

7000-12500

10000-20000

18000-36000

28200-56500

Water Evaporation

(kg/h)

12-17

40-70

80-150

150-250

230-425

300-600

600-1000

1000-1500

Total Power (kw)

10

20

40

65

85

105

150

230

Max. Equipment Height (m)

4.0

4.8

5.8

6.5

7.1

7.8

8.8

10.1

Occupied Area (㎡)

15

20

28

35

40

52

80

150
Note:
1. The evaporated amount of moisture is calculated when the temperature of inlet and outlet are180℃;
2. Besides the models above mentioned, special specification can also be made as request;
3. The equipped capacity above mentioned is standard. The power can also be decreased in accordance with pracitcal condition.
Raw Material Example & Characteristics (based on Model XSG-6)
Raw Material

Item

Stearate Acid

Aluminum Hydroxide

Zinc Carbonate

Monosultap

TMTD

DSDAcid

Red Iron Oxide

AntimonyDioxide

CuprousChloride

White Carbon Black

Inlet Air Temperature (℃)

150

180

150

120

140

150

200

180

200

280

Primary Moisture (%)

80

55

80

30

65

60

60

45

30

85

Final Moisture (%)

0.5

1.5

1.0

1.0

0.5

0.5

0.5

1.0

3.0

5.0

Practical Drying Capacity (kg/h)

140-160

250-280

130-170

80-110

80-120

80-120

300-350

280-320

290-310

250-300
Raw Material

Item

Accelerant

Oil-soluble Ink

Metabolic Acidosis MnZn

Phthalocyanine Blue

CalciumCitrate

Superfine Calcium Carbonate

Mud Additives

Sodium Dichloroisocyanurate

Sodium

Isocyanurate
Trioxide

Inlet Air Temperature (℃)

150

150

120

150

140

160

200

180

150

Primary Moisture (%)

60

45

30

55

40

70

75

25

30

Final Moisture (%)

0.5

2.0

1.0

1.0

1.0

1.5

5.0

0.2-2

1.0

Practical Drying Capacity (kg/h)

80-110

350-380

120-150

160-180

300-350

430-470

290-310

80-120

90-150