Zeolite Membrane and Pervaporation Separation Technology Equipment
Tags:
Overview: Zeolite membrane and pervaporation is a new kind of membrane separation technology used in liquid mixture separation.
Detail
Images
Customer
Video
Demo
Projects
Zeolite Membrane and Pervaporation Separation Technology Equipment

INTRODUCTION
With the nation's overall economy enters into the period of structure transformation and upgrade, competitions between various industries have become increasingly intense, the nation pays much attention to energy saving and emission reduction, safe production and environment protection, Chang Zhou Xinggan Drying Equipment Co., Ltd. develops Zeolite membrane and pervaporation separation technology equipment jointly with CNOOC Tianjin Chemical Research & Design Institute and the group led by Doctor Chen Zan, who has been working in the field for many years are responsible for the development of the four zeolite molecular sieve membranes, A-type, T-type, MOR-type and ZSM-5-type and other products with high separation performance, the applicable scope of pH value is 3.0~12.0, which are top high-tech products in the industry of pervaporation membrane at home and abroad with independent intellectual property right. The technology is applied in the separation of small quantity and traces of water in liquid organic chemical mixture (can also be used for gas permeation) whose outstanding feature is to achieve distillation, extraction, adsorption and other separation tasks which are hard to complete by traditional methods by low energy consumption. It can also be applied in coupling with biological and chemical reactions, continuously remove water generated from reactions and apparently increase conversion. In addition, it possesses obvious technical and economic advantages in separation of small quantity of organic pollution in waste water and reclamation of high value organic components in aqueous solution, etc. The company will make use of the technology and wholeheartedly provide professional membrane separation services for pharmaceutical and chemical industry and other relevant fields and make contribution to the nation's energy saving and emission reduction and upgrade of relevant industries.

PRINCIPLE AND TECHNOLOGICAL PROCESS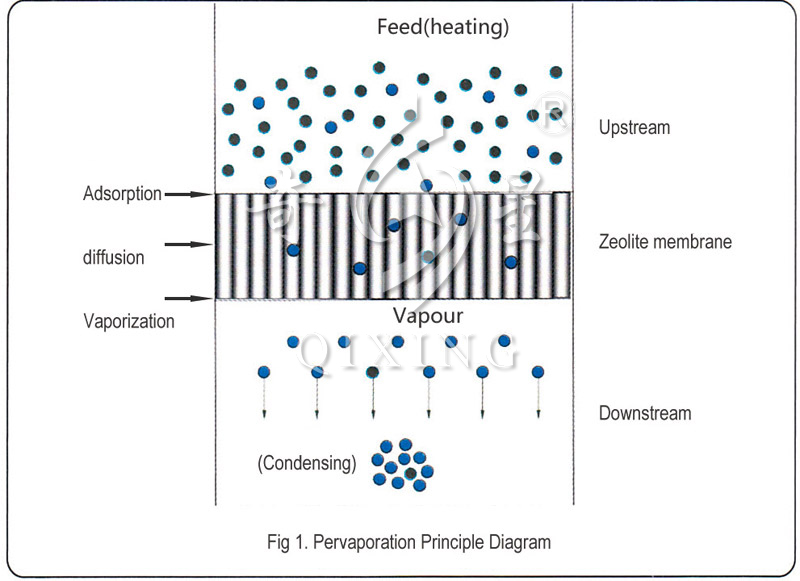 Zeolite membrane and pervaporation is a new kind of membrane separation technology used in liquid mixture separation. It is a separation procedure making use of zeolite membrane materials' different selective permeability and diffusion velocity on components by promotion of components steam partial pressure difference in liquid mixture. Compared with distillation or rectification and other traditional separation technologies, pervaporation possesses the advantages of high efficiency, low consumption, convenient operation and easy to enlarge, etc.. The separation principle and process shown in Fig 1 and Fig 2.


APPLICABLE SYSTEMS
The technology can be used in energy, environment protection, bio-pharmaceuticals, pesticides, lean chemical engineering, petrifaction, electricity, food and other industries, the detailed applicable systems are as follows:
◎ Alcohol systems dehydration, including: methanol, ethanol, propanol, isopropanol, butanol, butanol, isoamyl alcohol, cyclohexanol, benzyl alcohol,propargyl alcohol,etc.
◎ Ethers dehydration, including: ether, methyl tertiary butyl ether, diisopropyl ether, etc.
◎ Ketones dehydration, including: acetone, butanone, methyl isobutyl ketone, etc.
◎ Esters dehydration, including: methyl acetate, ethyl acetate, butyl acetate, ethylene carbonate, etc.
◎ Hydrocarbons dehydration, including: methane, ethane, carbon 6 oil, cyclohexane, etc.
◎ Halogenated hydrocarbons dehydration, including: chlorinated hydrocarbon, methylene chloride, vinyl chloride, etc.
◎ Aromatics dehydration, including: benzene, toluene, phenol, ethylbenzene, etc.
◎ Multi-kinds organic mixtures separation, such as fuel oil, etc.
◎ Other systems dehydration, such as: methyl chloride furan, acetic acid, triethylamine, aniline, pyridine, silicone, etc.

INDUSTRIAL ZEOLITE MEMBRANE TUBE AND MICROSTRUCTURE
The typical zeolite membrane tube and its microstructure are shown in Fig.

Fig.3industrial mcmbrance tube Fig.4 SEM Pictures of Zeolite Molecular Sieve Membrane Surface and Section

PROCESS COMPARISON
Azeotropic distillation and azeotropic adsorption are both conventional processes
| | | | |
| --- | --- | --- | --- |
| Model / Method | Distillation | Adsorption | Pervaporation |
| Steam | 525 | 381 | 110 |
| Electricity | 36 | 27 | 48 |
| Cooling Water | 20 | 16 | 10 |
| Entrainer / Zeolite Molecular Sieve Membrane | 60 | 154 | 124 |
| Total | 641 | 578 | 292 |